DeInstitutionalized: Escape the Madness, Remain Yourself and Do What You Love
---
While working together in various capacities on over fifty film projects two friends, desiring to escape a bit of the hollywood madness to create feature films entirely of their own, founded DeInstitutionalized LLC. Under the moniker, the pair have notched numerous awards for the company's feature films in addition to providing production services to some of the biggest companies in the independent feature film business. Films produced by the DeInstitutionalized team have been acquired by Lionsgate, Paramount, Saban, A&E's Lifetime Networks, Syfy Network, Hybrid, Marvista, Reel One Entertainment, Uncork'd Entertainment and a host of other companies. Despite DeInstitutionalized's rapid growth, these humble friends remain committed to delivering quality scripted entertainment, keeping the dollars on the screen while delivering each project on time and on budget. 
DeInstitutionalized: escape the madness, remain yourself and do what you love. We are DeInstitutionalized.  Thank you for your interest in our company and projects!
 

.
.
Christopher Ray

– Co-Founder, Managing Partner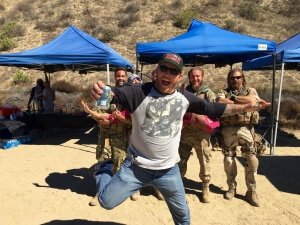 Chris was literally born into show business. He spent his first day on a set at the age of 5 and pretty much never left until he joined the US Navy at age 19. Even in his seven years of military service he found a set, of sorts, serving as a photomate. Since leaving the military Chris has returned home to the film industry. The 2018 Daytime Emmy winning producer and multiple Telly winning director has produced over thirty films, winning two Burbank International Film Festival Best Film Awards (2013 – House is Not a Home, 2014- Mercinaries) and five  Telly Awards in the process. He's directed over fifteen films, including six for the SyFy network (Almighty Thor, Mega Shark vs. Crocasaurus, Two Headed Shark Attack,  Three Headed Shark Attack, Shark Week and MegaShark 4).  He received the 2012 Golden Cob Award as Best Emerging Filmmaker. Chris partnered with Gerald Webb to form DeInstitutionalized, Llc and now serves as a managing partner of the company.
.
.
Member of the Producers Guild of America
Awards:
Two Time Daytime Emmy Award Winning Producer
Three 2018 Telly Awards – one for Directing and two Awards for Producing
2013 Winner Best Feature Film Burbank International Film Festival (A House Is Not A Home)
2014 2013 Winner Best Action Feature Film Burbank International Film Festival (Mercenaries)
2012 Golden Cob Award for Best Emerging Filmmaker
---
Gerald Webb

– Co-Founder, Managing Partner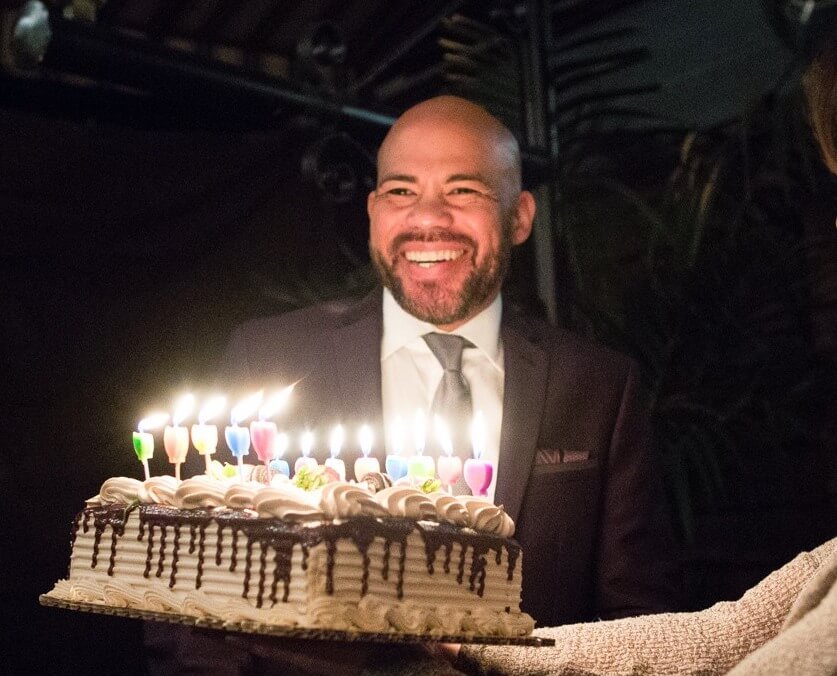 At the behest of director friend, Gerald was asked to help cast a movie for The Asylum Film Studio. Gerald's experience and solid foundation from performing over 100 roles in films and television shows served as the perfect skill set for what the studio was looking for in casting its' project. The partners of the studio were so impressed with his casting and acting instincts they quickly hired him as their in-house casting director. In 2011 Gerald was promoted to an executive position as the Director of Talent. Over the next four years and in conjunction with his own company, Transformation Films, he was responsible for all star name attachments and overseeing general casting for the studio's 20+ films per year and television series. He's the casting guru behind The Asylum's smash pop culture successes Sharknado 1, 2 and 3. Gerald also cast the series regular and guest star talent for seasons 1 & 2 for the Syfy network series, ZNation. In 2011 Gerald began producing. His producing credits include Assault On VA-33, Vermont Christmas Vacation with Chevy Chase, Hamlet and Hutch with Burt Reynolds, Middle Man with Jim O'Heir and Josh McDermitt, On Angel's Wings with Robin Givens, Reginald Veljohnson and Bill Cobbs, the television pilot The Clean starring Frankie Muniz, the television pilot She's Not My Sister directed by Kel Mitchell (Keenan and Kel Show), DeInstitutionalized's series FraXtur. Gerald recent acting bookings include HBO's Barry, Fox's 9-1-1, L.A.'s Finest, FX's It's Always Sunny In Philadelphia and CBS' Bull. In 2020 and on the eve of the Covid-19 quarantine, Gerald just stepped into the director and writer chairs with the short film $TACK$. The film has played to rave reviews and it has won awards for directing, writing, acting, casting and outstanding comedic. Fox signed onto to distribute $TACK$ through its' streaming network FOX SOUL, premiering it on FOX SOUL Screening Room hosted by Vivica A. Fox. In 2012 Gerald partnered with Christopher Ray to form DeInstitutionalized and now serves as a managing partner of the company.
Member of the Academy of Television Arts and Sciences
Member of the National Association of Television Program Executives
Member of the Screen Actors Guild
Member of NATPE- National Association of Television Program Executives
Awards:
2019 Daytime Emmy Nominee for Producing
Two 2019 Telly Awards for Producing
Two 2018 Telly Awards for Producing
2013 Winner Best Feature Film Burbank International Film Festival (A House Is Not A Home)
2013 Nominated Burbank International Film Festival Best Actor
2011 Looney Award for Best Supporting Actor
2011 Golden Cob Award for Best Rising B Movie Actor
2021 Micheaux International Film Festival Award for Best Comedic Short Film ($TACK$)
2021 Gofobo.com Audience Award Best Short Film ($TACK$)
2022 Idyllwild International Festival of Cinema Vanguard Award for Directing ($TACK$)
2022 Idyllwild International Festival of Cinema Vanguard Award for Writing ($TACK$)
2022 Idyllwild International Festival of Cinema Vanguard Award for Outstanding Short Film ($TACK$)
2022 Philadelphia Independent Film Festival Best Comedy Shot Film Award ($TACK$)
IMDB: http://www.imdb.com/name/nm2230938/      Twitter/Instagram: @GeraldWebb     Facebook: http://facebook.com/theGeraldWebb
---
DeInstitutionalized Films
Twitter: @DeInstitutional          Instagram: @DeInstitutionalized